The SME-DE (SME Leaders & Sustainability: Deliberative Engagement) Pilot Project, funded by the EU, will build a targeted, demand-driven Executive Programme, consisting of education and business support tools, which will help SME intermediary leaders to be more effectively engaged in addressing longer-term issues of sustainability.

The difficult economic climate is increasing pressure on EU businesses to be more resilient and sustainable. Many SME leaders focus on short-term survival. Their recovery strategy is to adopt a passive survival orientation and to wait and see or active retrenchment focussing on cutting costs. (EU Commission DGENTR 2010 p.12). They do not contribute as much as they might to shaping policy and solutions although the EU has taken steps to address this (Small Business Act).
The HEIs and business Partners will use innovative Deliberative Engagement (DE) processes/techniques to work with SME intermediaries and collaborate to develop a set of DE tools aimed at securing the pro-active participation of SME leaders.
SMEs are the major employers in Europe (EU Commission DGENTR 2010 p. 15), their self-activated and additional contribution to solving the long term issues facing them is essential. The intention of this project is that as the process of engagement progresses additional core sustainability issues will be revealed, and DE can be applied to their resolution.
This pilot project includes a plan for HEIs to work with business intermediaries to develop their capabilities to engage effectively with SMEs: it offers tailor-made training, a DE guide and will assist in setting up sustainable SME networks in conjunction with HEIs.
The pilot will create a mechanism for an enduring relationship between SME intermediaries and HEIs as the DE process and will identify new and emerging SME concerns and issues which can then be addressed through the on-going training programmes and a suite of supporting materials.
New pedagogical models and extended research agenda will be developed as a result of this work.

TFEI is the Project Coordinator/Compliance Partner.
Start Date - October 2013 - Duration 30 months

Programme: LLP Erasmus Multilateral Project
| | |
| --- | --- |
| This project has been funded with support from the European Commission. This publication reflects the views only of the author, and the Commission cannot be held responsible for any use, which may be made of the information contained therein. | |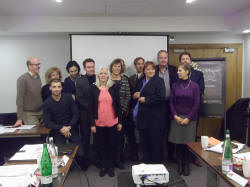 Inaugural Meeting - Partners